Retaliate goes to Sweden – 2010
I drove up to Santa Ana on Wednesday the 24th after work so we could have one last band practice before heading off to Sweden. After practice, we went to Bready's spot in Long Beach to crash since it's pretty close to LAX and we were leaving early the next morning. But hey, while we're there, let's drink some Tecates on the roof!!
Stayed up way too late of course, then we all settled in for a couple hours rest. Verity & Matt settled in a little too much.
Bready is a smuggler, so he gets double checked at every security point.
Juan is Mexican, so he gets checked too.
We left LAX @ 1PM on Thursday PST, had a quick layover in Houston, TX, then got to Frankfurt, Germany around noon on Friday their time, which would've been the middle of the night back on the west coast. Overseas flights are thrilling.
Walking around the airport also sucks.
Standing around in an airport also sucks.
We got to Frankfurt, went through customs, rented lockers for our carry on bags, then caught a cab downtown. It was a mild fuckup because the train is really easy to navigate, and downtown is only three exits away. Cabs are pretty pricey too, but what did we know? We wanted to explore but didn't have much time since we only had a 10 hour layover and the clock was ticking.
Here's the giant train station in Frankfurt which we ended up getting dropped off in front of. The pic following it is a view from the station towards downtown.
Outside the train station:
Here's us at a bar in Frankfurt:
Here's us at another bar in Frankfurt:
And here's us at another bar in Frankfurt:
Finally we settled into this one:
More photos from Frankfurt:
Time to head back to the train station, then the airport…DOH!!
Inside the station:
Gathering up Euros for the train:
Back to waiting around in the airport.
Sweet…more security!! By the way, that's a duty free store in the back. Cheap booze.
Finally we were off to Gothenburg!! We left at 1pm on Thurs and arrived in Gothenburg @ just before midnight on Friday!! Here's us just after arriving:
RETALIATE IN MEXICO — 2007
9-28-07 – Salon Fiesta – Tijuana, Mexico – Piece by Piece, Vendetta, Retaliate, Red Awakening, Down Again.
Worked all day on the 28th. Roger drove down to Balts house in UTC and I went to pick him up. We were supposed to meet Rene (the promoter) and the other bands at the H Street trolley station at 4PM but we were an hour late…fuck it.
Should've taken more pics in TJ for the photo journal but I've been there a bunch of times so its nothing special. Ate some killer tacos at some stand then went to the show. A bunch of Chula kids rolled out and some of my friends from PB. I was still sick as fuck, but after a handful of Tecates I was feeling alright and ready to play.
Here are some photos from the show taken by Patrick O'Neil: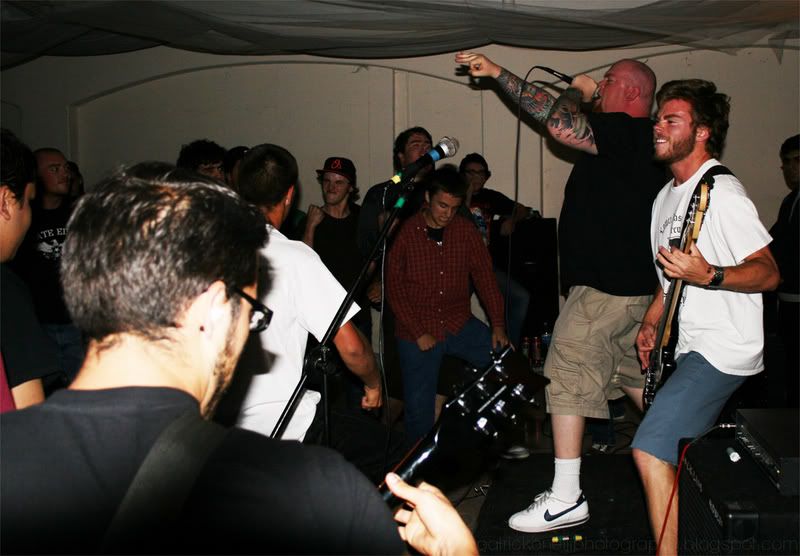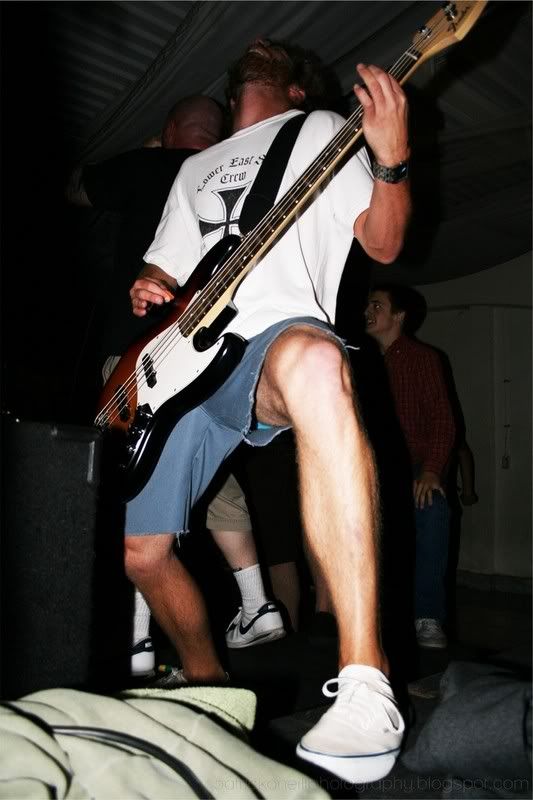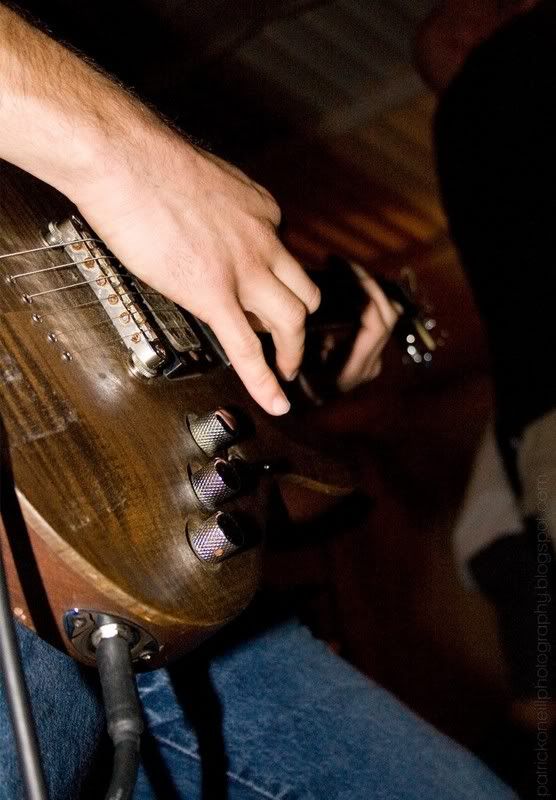 After the show, we hauled ass off to the airport. We had to fill out work Visas and shit…they cost about $20 a piece:
We got a couple drinks in the bar prior to loading then hopped on the plane: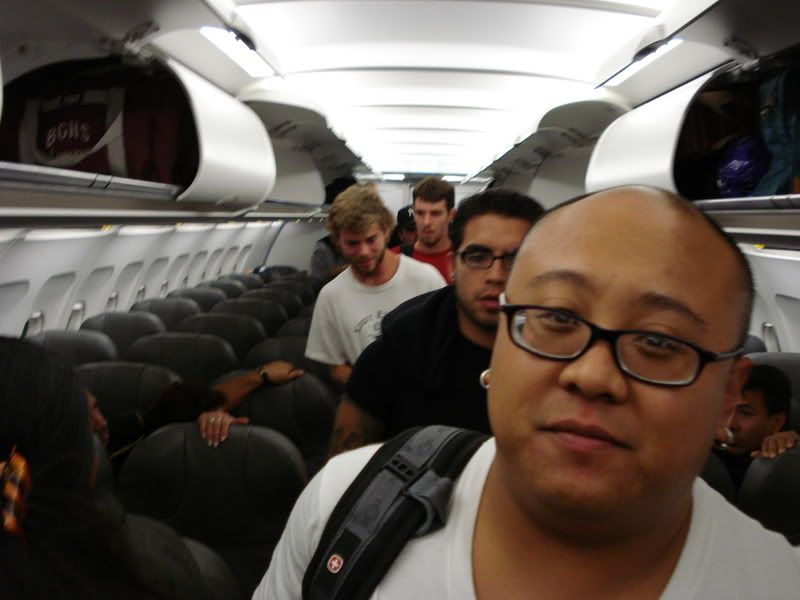 The flight to Mexico City is only 2 1/2 hours, and you lose two hours…so we knew we were going to be fucked on sleep the next day.
9/29/07 – Mexico City – Retaliate, Red Awakening, and a million more bands that I slept through.
We arrived in Mexico city around 7:00AM or so in the morning. Some of us got an hour or two of sleep on the plane. Here's the view outside of the airport: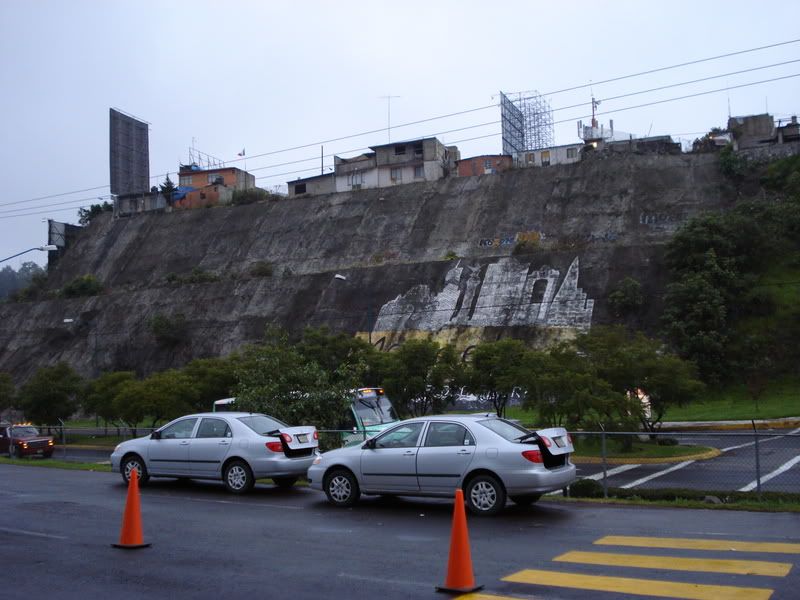 The airport was a good 30 minutes outside of town, so we took cabs down to the market district. We saw some really nice houses at first, very much like those in that movie Man on Fire. All the nice houses were straight up fortresses. Shit was crazy. I should've taken pics, but I was delirious. Fuck it…I'd get to sleep in 17 hours.
We got to the market district and put all our merch, backpacks, and equipment at one of Rene's friend's businesses, then went across the street for a bite to eat.
Retaliate waiting for their gorditas (I had no idea there were really such a thing that existed outside of Taco Bell) and then having breakfast:
We walked around the neighborhood and the local who was showing us around, Cucko, brought us to see this gnarly death altar. I'll try to add a pic of it later…I think the Red Awakening dudes took one. Anyway, I guess this altar is where you have to go to pray if you murdered or raped someone. Heavy shit. Anyway, when noon rolled around, Cucko told us we basically had to get out of the neighborhood cuz thats when all the locals wake up, and us gringos would be pretty unsafe. One of Cucko's friends took all our gear to the club we'd be playing that night, and the rest of us took the subway to the more downtown district.
Waiting for the subway and on the subway:
The subways in Mexico City are serious  business. There's no driver waiting to see if you get on or off safely. You basically have like 5 seconds, and whether you're on or off the doors are slamming and the train is peacing out. We ended up in this area somewhere in the city which was kind of like a death metal county fair. Lots of booths set up selling bootleg shirts, cds, dvds, and any other metal related garb you could think of.
We hung for a while then walked down to the more central district so we could see some touristy shit. Here's us walking the streets of Mexico City:
We had to stop and take a pic by the giant Corona sign. Here's Roger:
I believe this is the monument they built to commemorate Mexican independance. We took a band photo in front of it:
On certain days you can go up inside it, but it was closed on this day. The thing was fuckin huge. Here's me in front of it: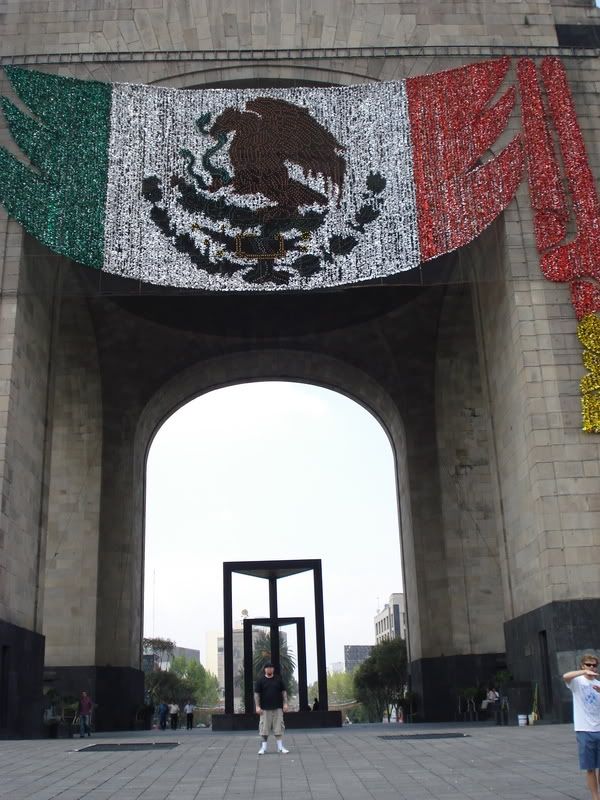 All the architecture in Mexico City was epic. It really made me feel like a peon.
Here's Milo at some other historical thang:
Some of Mexico City is very modern:
Streets of Mexico City:
After walking around for half a day, some dudes were super hungry, and some dudes were ready to party. I went to the bar with Cucko, Rene and the Red Awakening dudes. The rest of Retaliate went to eat street tacos:
Andy & Roger in downtown Mexico City:
Andrew & Milo getting their grub on:
Meanwhile…we were at the bar:

I guess the bar (I didn't catch the name) was some relatively famous spot. The president goes there sometimes and they never turn away anyone, so a homeless dude might be drinking next to the president. Kinda cool. Anyway, the other guys showed up and we continued the 4PM siesta:
So we all get pretty toasty and since we're miles from the venue, we figured it was time to get going. We get outside and its fucking raining on us….DOH!!!

That photo was taken in front of a giant, scary cathedral with the presidential palace in the background. Here's another pretty crappy photo of the presidential palace. The photo doesn't do justice to how huge and gnarly that place was. The Mexican flag looks big enough to wrap around the moon.
Here's a more epic pic of it:
It was hard as hell trying to catch a cab to where we needed to go, so we ended up taking the Subway to somewhere closeby, then taking a cab to the show. Now I guess I should backtrack a bit with the whole Mexico City show situation. It turns out there were two hardcore shows booked that night, and Rene/Cucko and some other locals spent all day working with the other promoters trying to combine the shows. They were pretty unwilling. We showed up at the original place where the show was going to be and it was pretty sketchy. Some of the dudes were super tired so they went to take naps. Milo had to use the bathroom so we walked up the street to some pool hall and got a couple more beers:
Back at the club, waiting:
I really don't know how to explain how creepy the inside of the place was, but lets just say I'm glad I wasn't one of the dudes who took a nap there. There were all kinds of trap doors and shit and dudes living underground. They said some dude repelled down from the ceiling singing shit at the top of his lungs. We took a couple photos inside just for fun:
They finally worked out getting the shows combined (mostly due to some sketchy street shit) and we headed off to the new venue. I was completely spent by this point and fell asleep on some couch inside the place. I woke up right before Red Awakening played. There was a good 200 or so kids there but it was a giant hall with a bunch of pool tables and a bar in the back.
Here's Retaliate live in Mexico City:
The kids in Mexico City were great. A bunch of kids wanted to take pics with me and stuff after the show and we hung out for a while doing that. Then we had to haul ass to the bus station cuz the last bus to Guadalajara left at 12:30AM.
September 30th – Guadalajara, Mexico
We all slept pretty well on the seven hour bus ride from Mexico City to Guadalajara. I felt great when I woke up in the morning and loaded off the bus.
We waited for some dudes to come pick us up from the bus station but they never came:
So we said fuck it and hopped on a cab…time to party again yet?
We ate a great breakfast at some upstairs joint in downtown Guadalajara. There is good eats in Mexico, even for vegetarians. The pic is dark, but its a cool memory shot. At least 3 of us fell in love with our waitress too.
After breakfast we showered up and went back downtown to check out some of the historical sites:
Here's this GIANT marketplace. Its like the biggest flea market ever. I bought a shotglass and a bootleg Pride Shockwave 2006 DVD. SICK!!
Overall, Guadalajara just felt a lot less tense and more mellow than Mexico City. We went back to the hotel for a bit to kill time time. I taught the dudes how to play 3′s. A day later Andrew would win all our pesos.
We went to the show but there was more time to kill, so we went to get tacos:
Andy watching the merch at the show:
Hanging out inside the club before the show:
Photos of the show:
The show was fucking awesome. The kids in Guadalajara are down as fuck. The crowd was small but everyone seemed really appreciative that we were there. I tried my best to speak en espanol. This is one of my favorite shows that I've ever played in my 10+ years of playing in bands.
Afterwards, it was time to party…here are the dudes hanging on the balcony:
After the show we went out to a different spot, killed two bottles of tequila, then went to bed.
10-1-07 – Time to go home
We woke up and went to breakfast at the same spot again around noon or one o'clock. The Red Awakening dudes wanted to go shopping but we were pretty beat so we headed over to the practice spot where all our gear was stored at.
Here's a view off the roof at the practice pad:
Milo hit up the wall:
Some dudes chilled, some dudes went and walked the neighborhood. Eventually the Red Awakening dudes and Rene came back and met up with us. We took one last group photo:
Then it was time to load up and head to the airport:
The fellas hanging at the Guadalajara Airport's Dunkin Donuts:
On the airplane, heading home:
We took a cab from the TJ airport to the border. Here's one last Retaliate shot at the border on the Mexican side:
All and all, this was an amazing weekend. Thanks so much to Rene for making it happen for us and to the Red Awakening for hanging. Also to Cucko and all the locals in Mexico City & Guadalajara who escorted us around and showed us their country and kept us safe. Thanks to everyone….we cant wait to do it again!!!